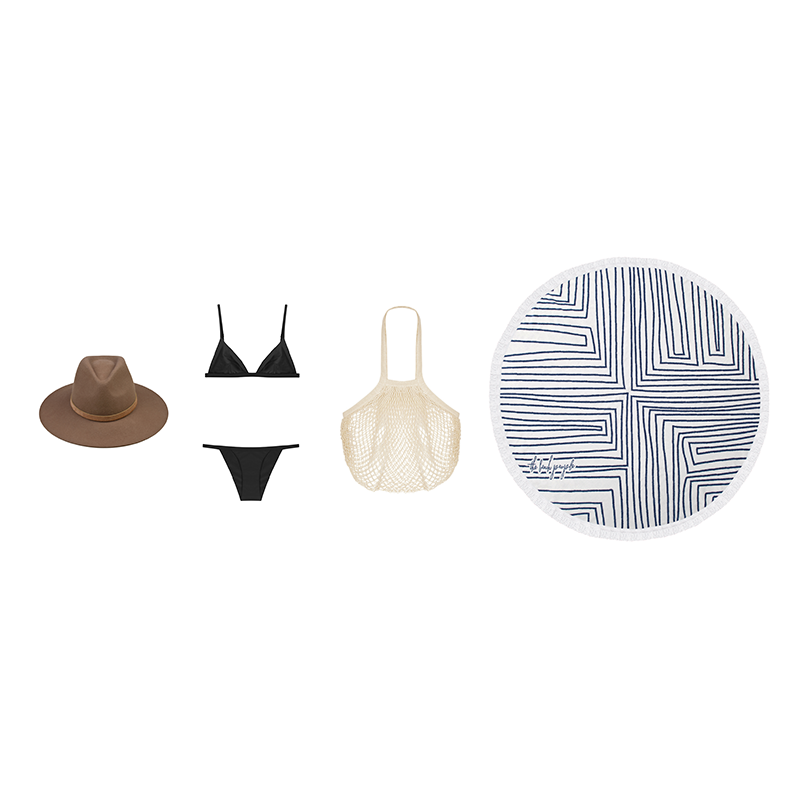 When it comes to getting ready for the summer holidays a tight style edit is crucial. Versatile and light weight separates in all black, as well as sophisticated accessories will ensure your set for an effortless Christmas break. I'll be heading home to Margaret River in Australia's South West, so I'll be packing wardrobe staples perfect for beachside adventures, lounging around and nights out at the local pub. As well as the additional essentials below…
Lack Of Color Grove Fedora. If there's one thing you can't forget to pack it's a brimmed hat. I wouldn't go anywhere this summer without it.
Matteau Swim Tri Top and Petite Brief Bikini. There's nothing more chic than a black, classic-cut bikini top and brief with a seam-free finish. You can also wear them as much as you want and they will never be referred to as "that" bikini that you've worn every day.
Matteau Natural Beach Bag. If there's one thing you can't forget to pack it's your beach bag. The one above from Matteau is perfect as it is light weight, expandable and features woven cotton handles.The best feature is the netting. As your sure to leave any beach sand at the beach, rather than finding it in your bag later!
The Beach People Avalon Towel. Luxe towels are like the perfect pair of jeans. The best ones are undeniably sophisticated, perfectly worn-in and soften beautifully with age. Which is just a few of the reasons why I love the range of beach towels from The Beach People. This season it is all about their new designs and The Avalon is my current favourite.
Classic Sandals. Make sure you pack a simple pair of nude or black sandals. Slides are my favourite this season and there are an incredible variety if you know where to look. Just remeber, keep it simple. I'm going for minimal leather sandals with raw-cut edges.
Photos are not my own. Source as stated above.