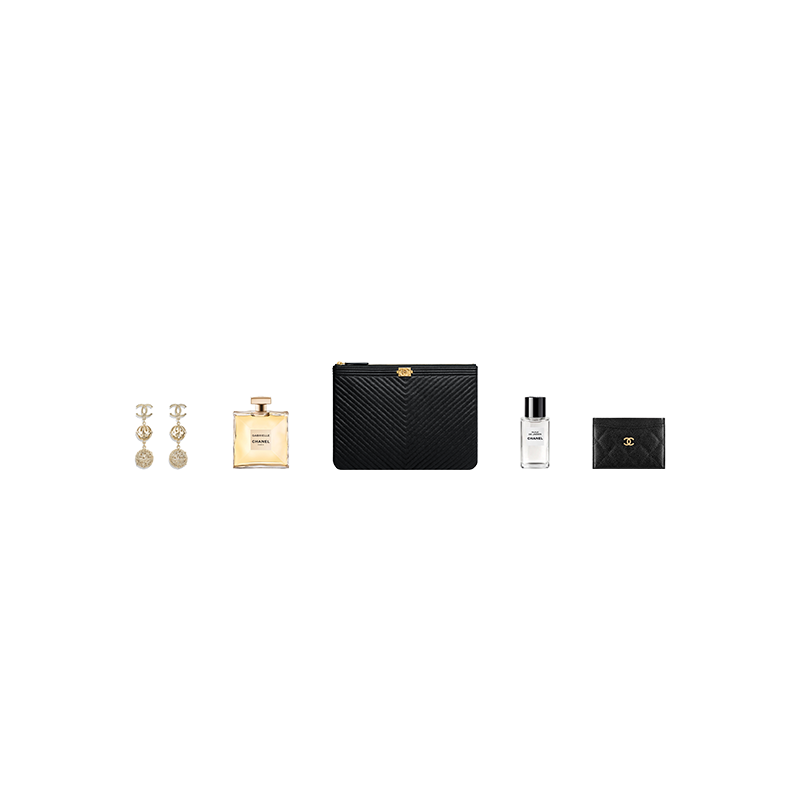 You're sure to have a luxurious Christmas with this edit of can't-go-wrong presents and dream-ticket gifts. Because let's face it. Receiving Chanel for Christmas is hands down the most exciting thing that could ever happen to a person in their adult life. If you need to purchase a gift today than my advice would be to visit your nearest David Jones store. Once you're there simply head straight to the Chanel counter where they will not only give you the best advice on gifting. But they'll also send you on your way with a beautifully packaged gift that anyone would love to receive on Christmas Day.
If you can wait until after the break than there's no need to battle the Christmas Eve traffic in-store. Simply click on the name of the object from my Christmas gift guide below to head directly to the item online.
Left to right :
Chanel Earrings. There is nothing quite as beautiful as OOT jewels and these gold earrings are a perfect addition to any jewellery collection. Not to mention an ideal finishing touch to any New Year's Eve outfit.
Chanel Gabrielle Fragrance. The bottle is as Iconic as they come. It also smells so good, it's the gift you'll want to buy for yourself.
Chanel Boy Pouch. The Boy Pouch bears all the distinctive characteristics of the brand's iconic design. Made in grained calfskin with gold metal hardware.
Chanel Huile De Jasmin. If you want to give the gift of perfect skin this year nothing quite beats Huile De Jasmine Oil. Composed almost entirely of naturally-derived ingredients, It smooths and nourishes the skin, while delivering comfort and suppleness.
Chanel Classic Card Holder. As someone who can never locate a business card amongst  all the other items in my bag this would be the very perfect Christmas gift for me!
If you don't have the luxury of time and you can't visit the shops today than a virtual gift card is the perfect last minute present. My favourite online shopping destinations; Honey Birdette or The Undone Store.
Photos are not my own. Source as stated above.