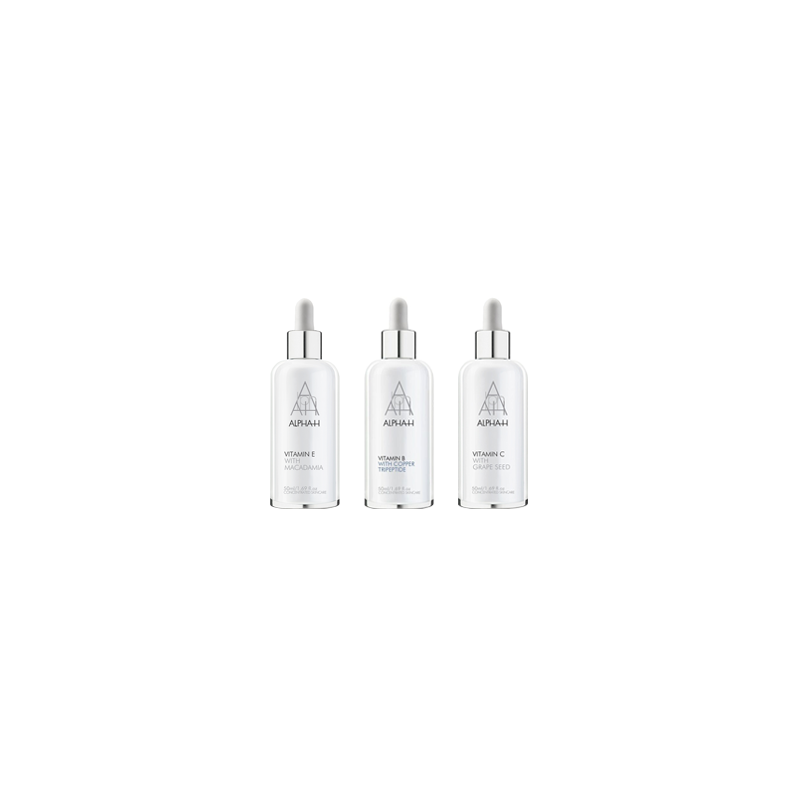 Here's the thing. Whilst most skincare products will contain the ingredients your skin needs from day-to-day, we all have those moments when you feel like you need something extra to combat a specific problem. Especially during the warmer months. From long days at the beach, to those late nights, your skin is sure to need some additional love and attention.
For the past couple of months I've been applying the Alpha-H Vitamin C Serum each night, before going to bed. The result? Better skin. And not in a subtle way. In just a few weeks this made my skin about 10,000 watts more radiant. Not sure which serum is best for your skin? Have a quick read of my guide below and you'll be sure to find what you need for your own summer skincare needs…
If you've had enough of fine lines, uneven skin tone and tired looking skin then you should try the Alpha-H Vitamin B Serum. It is formulated to take on the daily environmental elements and prevent the appearance of premature ageing. If you're not used to high-quality active serums like this, I recommend using it on alternative days at first. Just before you go to bed. Otherwise you might find it really rich at first, which is totally normal.
Alpha-H Vitamin C Serum with Grape Seed.
Think of the Alpha-H Vitamin C Serum as a good nights sleep in a bottle. This light-weight serum assists in the improvement of radiance, elasticity and skin texture. Whilst helping to reduce pigmentation, refine pores and provide protection against future sun damage.
If you've spent too much time at the beach these summer holidays and your skin is crying for out for hydration and antioxidants this is the serum for you. The Alpha-H Vitamin E Serum will provide your skin with longer lasting hydration. Whilst the healing qualities of vitamin E will repair damaged skin cells, dry skin and sunburn for a brighter, healthier complexion.
Photos are not my own. Source Alpha-H.